Preparatory Phase
Overview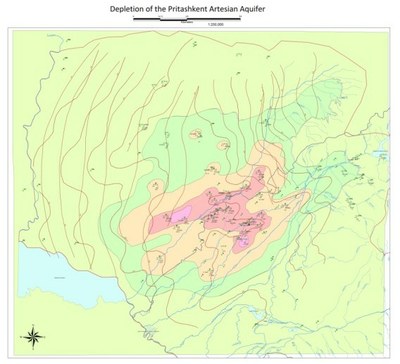 The 20th session of the UNESCO International Hydrological Programme (UNESCO IHP) Intergovernmental Council recommended provision of support to selected countries in order to enable them to carry out -depth studies of their groundwater resources.
UNESCO IGRAC methodology developed to assess the aquifers and to define adequate indicators to support monitoring of the good status of aquifers in the chosen representative aquifers
Pretashkent aquifer has been selected as a case study for the GGRETA project in order to improve scientific knowledge, protect and raise recognition of the importance and vulnerability of groundwater resources in the region, develop monitoring tools for the decision makers and enhanced awareness of countries on the UNGA Resolution on the Law of Transboundary Aquifers and on the UNECE Water Convention
UNESCO-IHP has organised a two-day regional workshop to bring together both international experts on groundwater resources management and national water experts from Kazakhstan and Uzbekistan. The workshop was organized with the participation of the United Nations Economic Commission of Europe (UNECE) and the EU Groundwater Working Group C.
The main objective of the workshop was to study Groundwater Resources Activities aimed at improving knowledge and capacity for the management of a vital resource.
| Report: | Agenda: | List of Participants: |
| --- | --- | --- |
Presentations - Day 1

Blanca Jimenez Cisneros - UNESCO
Alice Aureli - UNESCO-IHP
Annuka Lipponen - UNECE
Andrea Scheidleder - EU Commission
Nenjo Kukuric - IGRAC
Gabriel de los Cobos - GESDEC
Alice Aureli - UNESCO-IHP
Presentations - Day 2

| Alice Aureli - UNESCO-IHP | Oleg Podolny - Kazakhsta | Sergey Myagkov - Uzbekistan |
| --- | --- | --- |